Season 1: Episode 1
Interviews: Lynn Foote & Sandy Ross
Original Airdate: November 5, 2003
Runtime: 30 Min
Lynn Foote is the woman that developed the idea of theme strollers for use in amusement parks. She created the prototype, and presented this functional dolphin shaped stroller to Sea World. Eventually, Sea World embraced the idea, which opened the door to every major theme park in the United States. Lynn and her partner personally built more than 5000 strollers out of her garage while still working full time and traveling all over the US to promote and sell the strollers.
Sandy Ross is a past president of the P-47 Thunderbolt Association. The P-47 Thunderbolt was a plane that he flew in World War II. Entering the conflict in mid-war, Sandy trained as a pilot with his brother and then was sent to France in late 1944. Still as a rookie, his most notable day came when he shot down a Focke Wulf 190 that was tailing his wingman (the squadron leader) and saved his life. For that victory and several others he was awarded the Distinguished Flying Cross.
For more information visit: www.p47pilots.com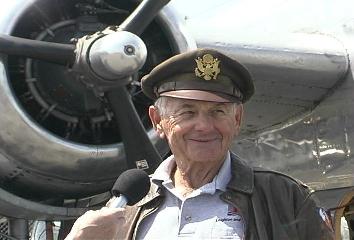 Season 1: Episode 2
Interview: Fort Tejon Historical Association
Original Airdate: November 12, 2003
Runtime: 30 Min
The FTHA was founded in the mid-sixties as an organization to promote and re-enact the civil war in Southern California. Fort Tejon was chosen as the headquarters of the organization and is dedicated to the preservation of the Fort and its educational activities. Fort Tejon was an active fort in the Civil War and had several notable generals on both sides come through the fort. The organization meets between April and October, on the third Sunday of the month. Camps on the site run "living history" programs and also host two large Civil War battles on Sundays. The public is always invited to attend and participate.
For more information visit: www.forttejon.org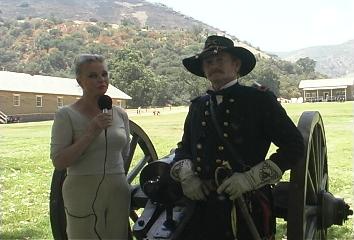 Season 1: Episode 3
Interview: Dixie Evans
Original Airdate: November 19, 2003
Runtime: 30 Min
Meet this 87 year old exotic Burlesque stripper who is the current curator of "Exotic World," a Burlesque museum. Located in Helendale, California, just off historic Route 66, Exotic World is the only museum in the world dedicated exclusively to the art and artifacts of the golden age of Bump & Grind. The Museum also supports the large pageant that is hosted there once a year. Founded in 1990, the pageant never ceases to draw media coverage from both the national and international press. The competitors come in a variety of shapes, sizes, ethnicities, and ages; all competing for one coveted award: The Miss Exotic World title and trophy. Known in the industry as the "Striptease Olympics," the pageant is historically well attended by divas and devotees of classic Burlesque alike. Taking place on the first Saturday of every June, the contest is the oldest, if not the only annual meeting of exotic dancers, old and new. Burlesque boomed during the depression when there was little source of entertainment. Dixie Evans has run the museum for over 14 years.
For more information visit: www.exoticworldusa.org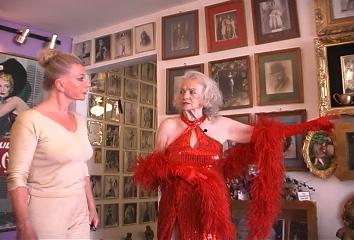 Season 1: Episode 4
Interview: Ron Knapp
Original Airdate: November 26, 2003
Runtime: 30 Min
In 1985, as a practical joke, Ronald Knapp, a successful businessman and inventor of a multitude of patented products, entered a Mikhail Gorbachev look-alike contest and took first place. Two years later, he created a parody video of Gorbachev and Reagan tearing down the Berlin Wall and gained international notoriety when the video was requested by some 56 countries all over the world. Then Maury Povich caught wind of the tape and promoted it live on "A Current Affair." Since then, Ron Knapp has traveled all over the world as the look-alike, been on three major networks for practical jokes, appeared in several movies, met Mr. Gorbachev, has written a book about his exploits, has been approached by the FBI to do work for the government and has also most recently appeared in Tau Kappa Epsilon's annual "Red Carnation Ball" 2003 video. Mr. Knapp also has gone down in history, as "The Man Who Trumped Trump" by meeting Mr. Trump and making him believe he was hanging out with the premiere of Mother Russia.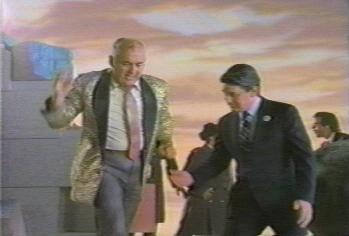 Season 1: Episode 5
Interview: Guy Adams
Original Airdate: December 3, 2003
Runtime: 30 Min
Meet drummer Guy Adams, who has worked extensively with the Blues Legend "JJ Bad Boy Jones." JJ, holding the same stature as BB King and other blues legends, came from the true Mississippi Delta Blues scene. He continues to play the blues non stop at the amazing age of 77. JJ has a good reason to sing the blues, coming from the lifestyle and hard life that he lived on the streets as a kid. Guy Adams joined the band "Big Harmonica Bob and the Blues All Stars," and has toured all over the west with the other five members of the band. Guy states, "Because of JJ and other legends like Bernie Pearl, the respect that we hold for them for still playing the blues and perfecting their craft makes us want to emulate them and revive the great days of Blues. We feel drawn to them spiritually and mentally."
For more information visit: www.bigharmonicabob.com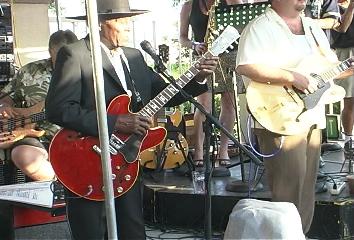 Season 1: Episode 6
Interview: Vi Cowdin
Original Airdate: n/a
Runtime: 28.5 Min
Vi Cowden had a unique opportunity to take part in World War II, different than almost all the women involved on the home front. Vi joined the Women's Air Service Patrol in the winter of 1942. She was one of the 1200 that made the cut out of over 10,000 that applied. Working with the Civilian Air Corps, Vi was among an elite group of women that flew new airplanes from the factories to the embarkation points along both coasts. Vi has had a great interest in flight all of her life and started at a very young age. When war came into the picture, Vi was a natural selection to serve her country in this capacity. Mrs. Cowden was one of the first pilots ever to fly the P-47 Thunderbolt on a maiden flight. She volunteers today as a living historian for the times when women were called upon to fill the homeland roles that men were unable to perform while in Europe.
For more information visit: www.wasp-wwii.org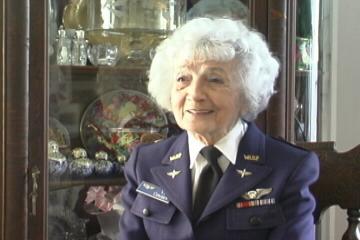 Season 1: Episode 7
Interview: Ed Weston
Original Airdate: n/a
Runtime: 28.5 Min
Ed Weston is an original art collector that pioneered the framework of classic Hollywood glamour photography into the decorative arts market. Ed went into the art world to buy and sell the visual medium of people, specifically that of large black & white and color photography through hundreds of auctions all over the world. Over the past 40 years he has seen the value of such photographs go from a high of $10,000 to well into the millions. Mr. Weston currently holds one of the largest private collections in the world today and still avidly collects and "pioneers" new and exciting glamour decorative art collections. He also was the founder of Art Expo West among many other shows and currently much of his art is on tour at different museums around the United States.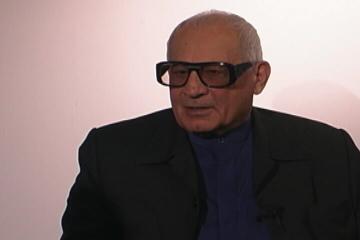 Season 1: Episode 8
Interview: Ed Howie & Adrian Windsor
Original Airdate: n/a
Runtime: 28.5 Min
Ed Howie is a member of a very unique organization that has the seasonal opportunity to bring joy into the lives of hundreds of kids. Ed is a very distinguished member of an elite organization of Old St. Nicks called "Amalgamated Order of Real Bearded Santas." Ed and some 200 other members in southern California form the nucleus of a group that is certified and goes out to spread Christmas joy to hundreds of children's organizations. He has been an active participant for over a decade and every year gets a little bit better at his role and fine-tuning his interesting craft.
For more information visit: www.aorbsantas.com
Adrian Windsor is a very strong unique woman who has taught hundreds of people to use the spiritual strength within them to accomplish a wide variety of goals and ambitions. With a doctorate in psychology and having been a teacher for many years of her life, she sought to create a text that would make an impact on peoples lives. She has since written a book called "Seven Tools to Transform Genius into Practical Power." Adrian resides in Orange County and continues to allow people to believe in themselves and their yet untapped abilities.
For more information visit: www.adrianwindsor.com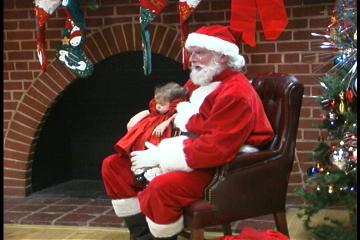 Season 1: Episode 9
Interview: Sherilyn Mentes
Original Airdate: n/a
Runtime: 28.5 Min
Sherilyn Mentes is a professional travelogue speaker that has spent countless hours on the road touring and giving presentations all over North America. The hobby/profession all began when she went to a travelogue presentation on a first date with her late husband. Both Sherilyn and her husband had an interest in the unique profession and soon afterwards made the first film regarding traveling in Mexico and off they went. In the beginning, they were only 2 of about 55 people presenting travelogues and they joined the ranks making films for Hawaii, Costa Rica, Greece, Scotland, South Africa, Holland, Hungry and many other countries. Sherilyn also got involved with writing the memoir for Lalo Guerrero (a pioneer of Latin Music) and wrote a book called "Lalo, My Life and Music." Today she continues to give prestige to the travelogue industry by giving presentations for such esteemed institutions as National Geographic.
Sherilyn Mentes Travelogue Videos: Available at Amazon.com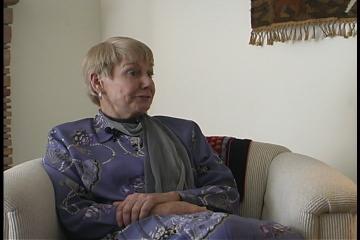 Season 1: Episode 10
Interview: Donald Ancell
Original Airdate: n/a
Runtime: 29.4 Min
Donald Ancel has a very unique hobby portraying the president Abraham Lincoln. Don has been reenacting Mr. Lincoln for several years since his retirement. He visits a wide range of Civil War Re-enactments across southern California as the Commander and Chief of the Union. Being an avid member of the Fort Tejon Historical Association (FTHA), Don has had the opportunity to take part in several national Abe Lincoln Look-a-like contests. Surprisingly, Don not only is the same height as Abraham Lincoln, but also has a strikingly similar facial build. The contests are based upon more than just looks; they go deeply into history, debates, and also intricate mannerisms. Don took third place in the latest contest, being beaten by another look-a-like that had a more accurate signature of Lincoln. Realizing that his talent was very unique and wanting to work with children, Don teamed up with another civil war re-enactor named Roger Knox. Together, they created several history skits and took their show on the road entertaining children in dozens of different schools in the Los Angeles area. The shows are not only interesting for children to see, but teaches them various aspects of the history of that time period in a way that enables them to retain information in a fun way.
For more information visit: www.lincolnpresenters.org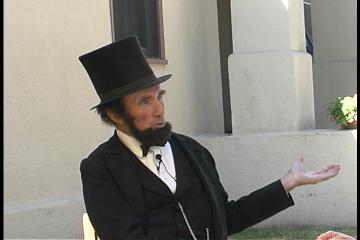 Season 1: Episode 11
Interview: George Griffin
Original Airdate: n/a
Runtime: 29.3 Min
George Griffin is an established, well known musician that has entertained people with the blues for more than 50 years. Born in New Orleans, he became interested in music at the age of five and was recognized for his gift at drumming soon afterwards. At 16, he turned professional and has played with or opened for a wide array of famous people. Some of those are The Dave Lewis Band, Otis Redding, Ray Charles, Tina Turner, The Flamingoes, Lionel Hampton, and Etta James. Switching to Jazz a few years later he played with Dextor Gordon, Tony Pointdexter, Johnny Guitar Watson, Jimmy Whiterspoon, Peggy Lee and many other well known legends. Perhaps one of his most notable acquaintances was his friend ship with Jimmy Hendrix that spanned over several years (Jimmy and George grew up together in Seattle). George is mentioned several times in Jimmy's book "Voices from Home." George is known best for the way he transcends lyrics and how performs from the heart. His latest album, "The Time has Come" contains a collection of his favorite songs.
To Buy George Griffin's latest CD visit: www.CDBaby.com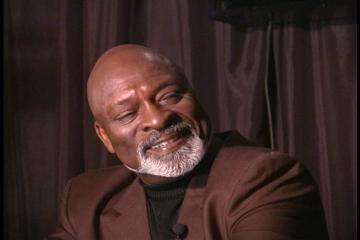 Season 1: Episode 12
Interview: Oliver Goodall
Original Airdate: n/a
Runtime: 29.4 Min
Oliver Goodall was one of the many African Americans that volunteered to serve during World War II. He signed up to be a pilot in the Army Air Corps when the United States finally decided to allow blacks in the service. In June of 1944, the US war department officially created the 477th bombardment group. Unlike the black fighter squadrons positioned in Europe, the 477th never saw actual combat, but instead faced a much more difficult battle as a political pawn in the struggle to break down racial barriers in the armed services. Oliver was a big part of a little known incident known as "The Freeman Mutiny" that tested the mental determination of him and hundreds of others. Regardless of rank, officers of color were warned that there were not to be admitted to the officers club and would also not be allowed all the privileges of white officers. Feeling that this was unjust and a crime, in March of 1945 black officers ignored the warnings on principle alone and attempted to enter the officers club at Freeman Field (where they were training at the time). Every African American on the base was placed on house arrest as a consequence and the big "mutiny" that occurred got nationwide attention. This incident slowly forced the military to fully accept different races into all aspects of military life. At the age of 82, Oliver still flies aircraft and is a part of Tuskegee Inc, the club that plans the Tuskegee airmen reunions and grants monetary scholarships to students entering the aerospace career field.
For more information visit: www.tuskegeeairmen.org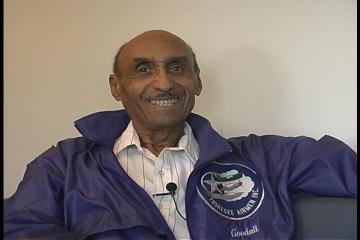 Season 1: Episode 13
Interview: Bernie Pearl
Original Airdate: n/a
Runtime: 29.5 Min
Bernie Pearl became interested in the Big Band Blues movement at a very young age. He has played with many of the legends of this genre and in doing so, became a legend himself. Beginning with folk music, Bernie teamed up with such notables as Bess Hozz (sister of the legendary folk singer Alan Lomax), Rye Cooper, Canned Heat, the Birds, and the Chambers Brothers. Bernie ran an "all blues and folk show" on KPPC radio in the late sixties. Bernie was also helped by his brother who opened and ran the Ash Groove, a successful folk bar in Los Angeles. After the closing of this bar, Bernie began to take interest in the blues. He met a few key musicians that were involved in the creation of the Long Beach Blues Festival. This festival has become a successful, annual event. Bernie and his band have played with legends like Big Joe Turner, Pee Wee Crayton, Eddie Cleanhead, Charles Brown, and Harmonica Fatz. Pearl and Fatz eventually formed their own music label, "Be Bop Records" to record live and studio music together. At the age of 65, Bernie still plays the blues at local clubs and is a living tribute to that amazing era of the past.
For more information visit: www.berniepearl.com
For info about the Long Beach Blues Festival visit: www.kkjz.org